31 October 2022
SANTS News – October 2022
Voice to Parliament update
Commissioner for First Nations Voice, Dale Agius has released his first engagement report regarding a state-based Voice to Parliament, while the SA Government has shared draft legislation for the First Nations Voice Bill 2022.
The draft legislation has been released for community members to consider alongside the engagement report before Mr Agius undertakes another round of consultations with Aboriginal communities from 17 November 2022 to 6 January 2023. Feedback will help refine the draft Bill, ahead of a possible introduction to State Parliament in 2023.
Click here to read both documents
Decoy ducks return to Riverland from USA
An Australian ex-pat living in New York has helped return 3 duck decoys to their Traditional Owners in the Riverland.
In the 1940s, local publican Donald Keith Cook purchased the three ducks and later passed them to his daughter, Jennifer Cook, who now resides in New York.
Research by the Australian Institute of Aboriginal and Torres Strait Islander Studies established that the decoys were made by Robert Joseph Tarby Mason, known as 'Old Joey' or 'Uncle Tarby', who lived alongside the River Murray at or near Waikerie.
In October the duck decoys were officially handed back to the River Murray and Mallee Aboriginal Corporation at Berri, they said: "We welcome the return of significant cultural heritage artefacts to the First Peoples of the River Murray and Mallee. It has been a long and exciting journey waiting for the ducks to migrate back home. Returning from overseas is significant and their story is an opportunity to share cultural knowledge to the wider community."
Read more in Aboriginal Way, Spring 2022
Narungga ancestors returned to Country
Ancestors from the south of Narungga Country were finally reburied on the Yorke Peninsula in October, following two decades of negotiations with the South Australian Museum.
One ancestor was returned from Washington's Smithsonian Institute in July, while the remaining 37 known remains were held in the SA Museum's 'Keeping Place' before they were laid to rest in a community-led ceremony at Dhilba Guuranda-Innes National Park.
Chair of the Dhilba Guuranda-Innes National Park Co-Management Board, Doug Milera, who has been heavily involved in the repatriations, said this is only the beginning of Narungga's repatriation journey.
"It's a momentous day for the Narungga people as we return 38 of our southern ancestors to Country, in what we hope is the start of the return of all our ancestors, however there is still a lot of work to be done," Mr Milera said.
Watch SBS' video about the repat
First Nations Clean Energy Network Guides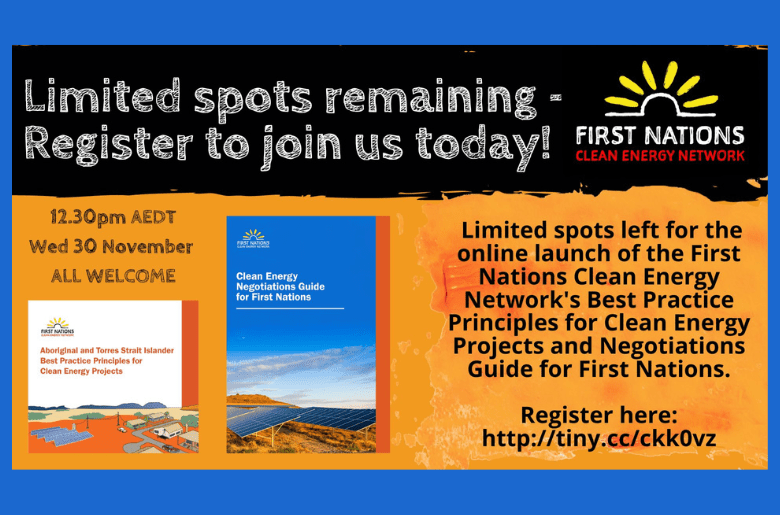 The First Nations Clean Energy Network, which aims to make sure First Nations communities share in the benefits of the clean energy boom, is launching two guides to support Aboriginal and Torres Strait Islander people to negotiate the best outcomes for their communities.
The network launched late last year and has created the resources outlined below to help First Nations communities negotiate medium and large-scale clean energy projects.
Aboriginal and Torres Strait Islander Best Practice Principles for Clean Energy Projects: 10 principles covering such things as ensuring projects provide economic and social benefits, mutual respect, cultural and environmental considerations and employment opportunities.
Clean Energy Negotiations Guide for First Nations: To help negotiate mid to large scale developments on Country, or assist communities wanting to initiate their own clean energy projects. Covers all aspects of negotiating, such as joining or opposing a project, to getting resources and advice, so there are fair outcomes for all.
Sign up: Launch of the First Nations Clean Energy Network guides, from 12.30 – 1.30 pm (AEDT), Wednesday, 30 November 2022
Tarrkarri on hold as Premier launches urgent review
Work on the $200 million First Nations Cultural Centre proposed for Lot Fourteen has been put on hold after a cost blowout of $50 million.
Late last year the managing contractor of the project advised the SA Government that an extra $50 million would be needed to build Australia's premier Aboriginal arts and cultural centre, a place of international significance, which was the original proposal by the former Marshall and Morrison governments.
The project's professional services team Woods Bagot and architects Diller Scofidio + Renfro projected that building the centre within the existing $200 million budget would lead to a significant reduction in scope and result in a centre of only "local state-level standard".
SANTS CEO Keith Thomas, who is a member of Tarrkarri's Aboriginal reference group, supports the review to ensure "all Aboriginal and Torres Strait Islander cultures are represented with the most state-of-the-art facility possible."
Read ABC's report on the review
Keith Thomas wraps up NNTC Board Directorship
The National Native Title Council (NNTC), the peak body for the native title sector, has thanked SANTS CEO Keith Thomas for his two year's of service on their Board.
NNTC Chairman Kado Muir said: "Whilst much of the last 2 years has been difficult due to COVID-19 restrictions and lockdowns I do believe the NNTC has been able to continue the work of the organisation and achieve some key milestones.
"[Keith's] contribution to the Board has been valuable and [his] expertise will be missed. We look forward to the ongoing contribution of SANTS to the activities of the NNTC, particularly in relation to the work around PBC reform and the emergence of the clean energy market."
Through the native title system, the Council advocates for the rights and interests of all First Nations people. SANTS encourages PBCs to become a member, as an opportunity to add their voices to the national dialogue on issues impacting native title rights and interests.