JOSHUA HAYNES
CHAIRPERSON
Joshua Haynes - Deputy Chairperson
Joshua Haynes is a Yandruwandha Yawarrawarrka man.
He is a Director of the National Native Title Council and the Chair of the Marree and Innamincka NRM Group and a Director of the Cooper and Eromanga Basin Aboriginal Executive Committee.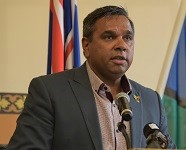 GARRY GOLDSMITH
DEPUTY CHAIRPERSON
Garry Goldsmith - Director
Garry is a proud Narungga man from Guuranda (the Yorke Peninsula).
Garry is the Business Manager for Narungga Nation Aboriginal Corporation (NNAC), a pivotal role in the organisation to deliver outcomes from the historic 10-year Buthera Agreement with the South Australian Government.
Originating from Point Pearce and moving to Adelaide in his teenage years, Garry worked for over twenty-five years in various roles in the Aboriginal Community Controlled Health sector, Drug and Alcohol Services, Child Protection and as private business owner.
Garry has worked in community radio for more than a decade and has hosted numerous local, state and national events and conferences.
Garry founded and delivers the largest single Aboriginal Nation event in South Australia, 'Gynburra'. The annual Gynburra Festival is held over three days and celebrates Narungga spiritual and cultural connection to country.
Paul Case - Treasurer
Paul is a Chartered Accountant with over twenty years commercial experience and is a Registered Company Auditor.
Since joining MLCS Corporate in 1995 as Director of the company Paul's expertise has developed with a major focus on business planning, strategic planning and development strategies to create wealth for his clients.
His industry experience covers the retail, tourism and mining sectors and in particular he has developed a niche offering to Native Title Claimants in exploring commercial opportunities associated with agreements.
April Lawrie - Director
April heralds from the Mirning and Kokatha people of the far west coast.
April's is Commissioner for Aboriginal Children and Young People in South Australia. She has devoted her time and skills over the last 25 years to Aboriginal issues across government and at the community level.
For many years, April was involved in supporting her Mirning people with pursuing recognition for the Nullarbor region. April has also been involved in native title processes and governance on the state's Far West Coast.
April has been on the Board of Directors for the Bullinda 'Lawrie' family homeland, the Far West Coast Aboriginal Corporation, Far West Coast Investment Pty Ltd, Far West Mining and Civil Company. She also served as an inaugural delegate to the National Congress of Australia's First People, and on a national peak body council for PBCs
John Briggs - Director
John is a proud Aboriginal man who identifies with the Yorta Yorta People from Cummrugunja (our home), which is part of the Barmah Forest on the Victoria, New South Wales border on the Murray River.
John is the General Manager of Intract (Indigenous Contracting services), which was established to provide contracting and training services to the civil construction and mining industries.
John has also held positions in farming, hotel, telecommunication, automotive, mining and civil construction industries.
Paul Gordon - Director
Paul is a Partner at Wallmans Lawyers. Paul works in the areas of corporate governance, commercial law and intellectual property and technology law.
Paul has a strong focus on supporting Aboriginal organisations and communities to build internal capacity, and strategically grow their resilience and ability to be self-determined. Paul assists organisations with board governance issues, resolving disputes, compliance with regulation by ORIC and ASIC, structuring and registration, applying for charitable registration (DGR and PBI), contractual negotiation / drafting / review, and intellectual property protection. Paul has an abiding respect for Aboriginal people and communities and their connection and custodianship of Country.
Mr Keith Thomas
Chief Executive Officer
Mr Keith Thomas - Chief Executive Officer
BA, MBA UniSA
Keith commenced as CEO in 2011 following nearly 15 years as General Manager of ALRM (NTU) and SANTS. Keith has professional qualifications in business administration, management and leadership and over 30 years' experience in working within Aboriginal Affairs. Keith brings strategic leadership to SANTS and embeds in the company a strong commitment to working with our clients to meet their aspirations and build sustainable Aboriginal Nations. In pursuing both our company's and clients' objectives, Keith continues to promote through our work the value of collaboration and partnering.
Mr Andrew Beckworth
Principal Legal Officer
Mr Andrew Beckworth - Principal Legal Officer
LLB/LP Flinders University
Andrew started as a Legal Officer with ALRM (NTU) in 2002 and has been the Principal Legal Officer since the inception of SANTS in 2008. Andrew also previously worked in the Northern Territory for an Aboriginal Legal Service and in the United Kingdom for Thompsons Solicitors. Andrew and his team are responsible for delivering native title services that provide for the recognition and protection of native title rights and interests in South Australia. Andrew is also our Company Secretary.
Ms Katy Bone
chief finance and operations officer
Ms Katy Bone - Chief Finance and Operations Officer
BCom USQ
Katy commenced with SANTS in 2020 as Business Services Manager. Katy has 16 years' experience in state government including SA Water, SA Health and Child Protection, with her most recent position in Local Government. Katy has significant experience in finance reporting and budgets, governance, corporate services, service delivery, communications and ICT. As Business Services Manager, Katy and her team are responsible for providing business support including process improvements across the organisation.
Dr Tom Jenkin
Manager Corporate and Community Development
Dr Tom Jenkin - Manager Corporate and Community Development
BA (Hons), PhD Flinders University
Tom commenced with ALRM (NTU) in 2005 to undertake a research project on the Statewide Negotiation process. Tom has doctoral qualifications in Human Geography stemming from his work in native title and has over 15 years research and work experience in Aboriginal Affairs in South Australia. Since 2009, Tom has held various management positions focussed primarily on SANTS' post-determination services. As Manager Corporate and Community Development, Tom leads a team which provides a range of services to native title holder corporations to assist them to establish and prosper through sound governance, strategic leadership and positive, incremental growth.
SANTS is based in the Adelaide CBD, located close to the Law Courts. Our central office location is well placed for public transport and the Adelaide Central Markets and Gouger Street restaurants are nearby. SANTS is a small, independent Aboriginal which offers employees an opportunity to work for a not for profit body with a strong mission and values.
SANTS Strategic Plan 2020-2025
The SANTS Strategic Plan 2020-2025 provides the focus for all we strive to achieve.
OUR VISION
Empower Aboriginal Nations to strengthen culture, country and community
OUR MISSION
Be a provider of choice to support Aboriginal Nations to recognise and protect their native title rights and interests and to realise their aspirations
OUR VALUE
Respectful: We recognise and value people, country, culture, diversity and ideas
Collaborative: We work together ethically and professionally to ensure leadership and growth
Aspirational: We aim high, challenge ourselves and strive for excellence