27 April 2021
Mali Isabel is making her art empire
Meet Mali Isabel, an Arabana and Kokatha artist making a name for herself on Kaurna land. The 21-year old was a successful applicant of a year-long residency at Carclew – an organsation cultivating artists early in their career.
Mali dabbles in ceramics and photography, but acrylic on canvas is her medium of choice using every colour of the rainbow.
"I would say my style was very contemporary, but I feel like it's also quite unique because many people wouldn't even dare to use the colors that I do."
Mali uses a studio wall to brainstorm ideas for inspiration – from mental health to Miley Cyrus.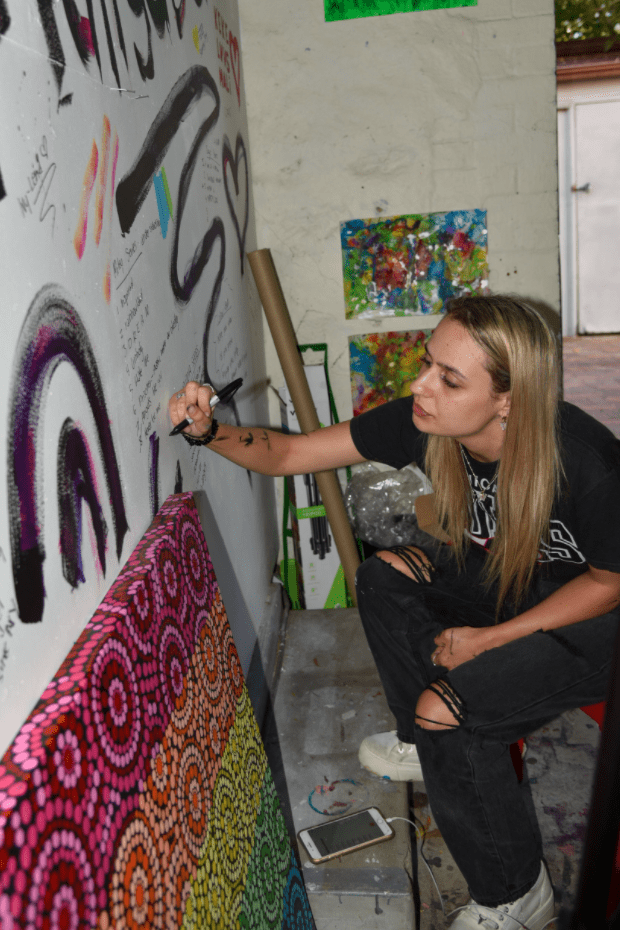 "I base all of my art on equality, so during this time when I started doing art, same-sex marriage was just legalised in Australia," she explains. "People would just keep it like neutral, basic tones or pastorals whereas I just go like neon and bright."
Part of Mali's residency at Carclew includes support with developing her creative practice and opportunities to run her own workshops.
"Recently I did a six-panel mural with year five to eight students focusing on an Narungga dreaming time story. We had the kids design, the mural, create the mural and then it was put up in the school was absolutely amazing."
Mali is determined to let nothing hold her back from making a "massive name" for herself with plans to have exhibitions all over the world.
"I feel like being Indigenous and then being a woman, like there's two things that are so against me in the world already, but I feel like nothing can stop me because if I want something I'm going to go out and make it happen regardless."
Mali is currently building her website, but she regularly shares her work on Instagram and says you're welcome to message her to commission an artwork.
"It's as simple as throwing me a DM and then we discuss colours, size, check out my price and then people just wait until it's ready."
Follow Mali on Instagram: @maliisabelart