Governance and Management
Board of Directors
SANTS is governed by a Board of Directors which is accountable for the strategic direction and overall performance of the company. The Board's role is to guide, govern and provide a professional approach to the development of SANTS. The Board has adopted a Charter to strengthen the good governance of the company.
The Board consists of nine Directors who are appointed by a Board Selection Committee. The membership of the Board must comprise a majority of Aboriginal persons and include a lawyer, an accountant, and a person with lengthy experience in public administration or a corporate manager or leader. The Chairperson of the Board must also be an Aboriginal person and is elected by the Board.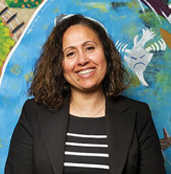 April Lawrie - Chairperson
April heralds from the Mirning and Kokatha people of the far west coast, with many family and relatives living in Ceduna. For many years, April was involved in supporting her Mirning people with pursuing land rights for the Nullarbor region, where the Mirning now co-manage the Nullarbor parks. April has also been involved in native title processes and governance on the state's Far West Coast.The Far West Coast Aboriginal Corporation gained confirmation of their native title rights in 2013.
April's current role is as Commissioner for Aboriginal Children and Young People in South Australia. She has devoted her time and skills over the last 25 years to Aboriginal issues across government and at the community level, in particular contributing to the formation of Aboriginal policy at the state and national level. April studied Social Work and originally worked in Aboriginal foster care and later in a range of South Australian government agencies on Aboriginal issues across urban, rural and remote communities.
April has been on the Board of Directors for the Bullinda 'Lawrie' family homeland, the Far West Coast Aboriginal Corporation, Far West Coast Investment Pty Ltd, Far West Mining and Civil Company. She also served as an inaugural delegate to the National Congress of Australia's First People, and on a national peak body council for PBCs.
Joshua Haynes - Deputy Chairperson
Joshua Haynes is a Yandruwanha Yawarawarka man. He is a Director National Native Title Council and the First Nations SA Aboriginal Corporation, the Chair of the Marree and Innamincka NRM Group and Cooper and Eromanga Basin Aboriginal Executive Committee Director.
Damien Coulthard – Director
Damien is from Adnyamathanha country. He grew up in Quorn and Nepabunna South Australia being very connected to his heritage and culture. His passion for teaching and ability to lead started at a very early age when he first began playing sport.
This also led him to become a High School Teacher, now in his seventh year at Le Fevre High School in Semaphore. He is the coordinator for the South Australian Aboriginal Sports Training Academy (SAASTA) as well as Sports Coordinator for his school. The SAASTA academy focuses on academic learning, achievement and acceleration through sports, which he takes great pride in. He is a valued part of his School and very well respected by the staff, students and local community.
Damien's role for local native food business Warndu incorporates direct relationship building with communities and wild harvesters. This is a hugely important role for the company as it is its core goal to build long term relationships with communities around Australia.
Paul Case - Treasurer
Paul is a Chartered Accountant with over twenty years commercial experience and is a Registered Company Auditor.
Since joining MLCS Corporate in 1995 as Director of the company Paul's expertise has developed with a major focus on business planning, strategic planning and development strategies to create wealth for his clients.
His industry experience covers the retail, tourism and mining sectors and in particular he has developed a niche offering to Native Title Claimants in exploring commercial opportunities associated with agreements.
John Briggs - Director
John is a proud Aboriginal man who identifies with the Yorta Yorta People from Cummrugunja (our home), which is part of the Barmah Forest on the Victoria, New South Wales border on the Murray River. John has devoted a large portion of his working life sharing his experiences and working with Aboriginal people in his local community and across the states and territories of Australia. John is the General Manager of Intract (Indigenous Contracting services). In collaboration with the Aboriginal Foundation of South Australia and McMahon Services, Intract was established to provide contracting and training services to the civil construction and mining industries. As General Manager, this involves being active in establishing the operations of Intract, which include networking within the civil construction and mining industries, employing and training suitable staff including Aboriginal employees, undertaking projects and business development. Other experiences include: Director of Active Bobcats, Rio Tinto Supervisor / Trainer for ATAL (Aboriginal Training & Liaison), Jackeroo, Mechanic, Hotel management, retail, telecom lineman, station overseer, plant operator and demolition. These positions have been held in farming, hotel, telecommunication, automotive, mining and civil construction industries.
Lavene Ngatokorua - Director
Lavene is Youth and Children's Coordinator at Davenport Community and CEO of that community. She is a Wangkangurru, Adnyamathanha, Kuyani, Luritja woman from Davenport; an Aboriginal community located 300km north of Adelaide.
The Davenport community was known as Davenport Reserve before it formed its own Aboriginal community council in 1973. Lavene took on the demanding voluntary role of CEO after the community lost Government funding in 2014.
Lavene has been involved in native title as a community member and observer, attending meetings and native title hearings for the Adnyamathanha people. She continues to contribute to the native title process for her people and all native title groups of SA through her involvement on the SANTS Board.
Lavene believes we need to learn from our Elders and think of new ways to build Aboriginal Nations. This means to provide people with better options to learn and take on business opportunities; to listen to people about their needs and aspirations. Lavene feels strongly about engagement and capacity development for all Aboriginal communities in South Australia and assisting PBCs (native title corporate bodies) with their future endeavours.
Allan Hunter - Director
Allan was admitted as a solicitor in South Australia in 1971. Until 1998 he practised in private practice in SA principally in litigation and specialised in professional indemnity and then health law principally defending doctors and dentists. In 1998 he retired from Wallmans Solicitors, and joined United Medical Protection, now Avant, working in various management roles including Head of Claims, Deputy CEO and Acting CEO.
Since August 2007 he has worked as an independent consultant principally to Professional Indemnity Insurers, andLegal and Medical Practices. He was chairman of SAPMEA from June 2008 until June 2014, a founding director of SANTS and interim chair until November 2009, chair of the SA Law Claims Committee and in June 2017 appointed as a supplementary member of SACAT. Allan retired from private legal practice on 30 June 2017.
Garry Goldsmith - Director
Garry Goldsmith is a proud Narungga man from Guuranda (the Yorke Peninsula).Originating from Point Pearce and moving to Adelaide in his teenage years, Garry has worked for over twenty-five years in various roles in the Aboriginal Community Controlled Health sector, Drug and Alcohol Services, Child Protection and as private business owner. Garry is the Business Manager for Narungga Nation Aboriginal Corporation (NNAC), a pivotal role in our organisation to deliver outcomes from the historic 10-year Buthera Agreement with the South Australian Government. NNAC is working to establish the Narungga Fishing and Aquaculture Company, acquiring licenses to fish all species in Narungga waters and derive a sustainable source of income and employment for the Narungga community. Garry has also worked in community radio for more than a decade and has hosted numerous local, state and national events including Tauondi and AFSS open days, NACCHO Members and AHCWA Members conferences. A passionate community person, he founded and delivers the largest single Aboriginal Nation event in South Australia, 'Gynburra'. The annual Narungga festival is held over three days and includes the iconic Clem Graham Snr Memorial Butterfish Competition celebrating Narungga spiritual and cultural connection to country.
Executive Management
Mr Keith Thomas - Chief Executive Officer
BA, MBA UniSA
Keith commenced as CEO in 2011 following nearly 15 years as General Manager of SANTS/ALRM (NTU). Keith has professional qualifications in business administration, management and leadership and over 30 years' experience in working within Aboriginal Affairs. Keith brings strategic leadership to SANTS and embeds in the company a strong commitment to working with our clients to meet their aspirations and build sustainable Aboriginal Nations. In pursuing both our company's and clients' objectives, Keith continues to promote through our work the value of collaboration and partnering.
Mr Andrew Beckworth - Principal Legal Officer
LLB/LP Flinders University
Andrew started as a Legal Officer with SANTS/ALRM in 2002 and has been the Principal Legal Officer since the inception of SANTS in 2008. Andrew also previously worked in the Northern Territory for an Aboriginal Legal Service and in the United Kingdom for Thompsons Solicitors. Andrew and his team are responsible for delivering native title services that provide for the recognition and protection of native title rights and interests in South Australia. Andrew is also our Company Secretary.
Ms Nicole Galliford - Business Services and HR Manager
B.Mgt, Grad Cert Mgt, MBA, CAHRI
Nicole commenced with SANTS in 2012 as Human Resources Manager to deliver improved organisational capabilities and structures. Previously, Nicole worked in the private sector (for over 19 years) and has significant experience in business administration, corporate services, service delivery, communications and human resources. As Business Services & HR Manager, Nicole leads a team to provide business support.
Dr Tom Jenkin - Manager Corporate and Community Development
BA (Hons), PhD Flinders University
Tom commenced with SANTS/ALRM (NTU) in 2005 to undertake a research project on the Statewide Negotiation process. Tom has doctoral qualifications in Human Geography stemming from his work in native title and has over 15 years research and work experience in Aboriginal Affairs in South Australia. Since 2009, Tom has held various management positions focussed primarily on SANTS' post-determination services. As Manager Corporate and Community Development, Tom leads a team which provides a range of services to native title holder corporations to assist them to establish and prosper through sound governance, strategic leadership and positive, incremental growth.
SANTS acknowledges that the land on which our office is based is the traditional lands for the Kaurna people and we respect their spiritual and cultural relationship with their country.